Center for Secure Microelectronics Ecosystem launched at Purdue with TSMC, Synopsys
Purdue University has launched the Center for Secure Microelectronics Ecosystem (CSME) with support from industry partners and a U.S. Department of Defense (DOD)-funded workforce development program.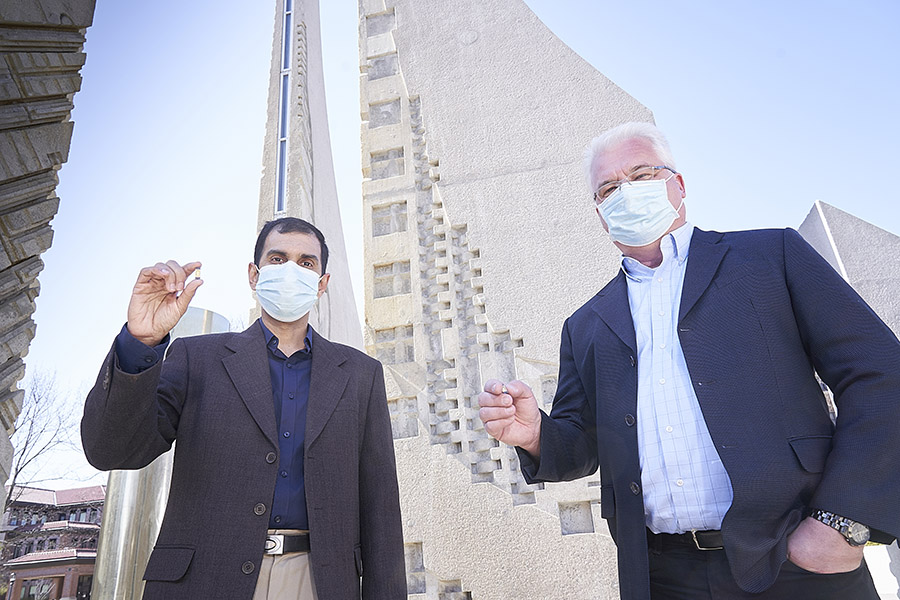 Purdue University has launched the Center for Secure Microelectronics Ecosystem (CSME) with support from industry partners and a U.S. Department of Defense (DOD)-funded workforce development program.
CSME is a first-of-its-kind global partnership of academia, industry and government to advance research and workforce development in designing secure microelectronics. Its aim is to help ensure a secure supply of semiconductor chips and related products and tools, from the foundry to the packaged system, based on a zero-trust model.
Microelectronics underpin every U.S. defense system, and they are fundamental to global commercial technologies, such as 5G, autonomous transportation, drones, the internet of things (IoT), artificial intelligence, advanced manufacturing, and more. However, there are increasing vulnerabilities at every level of the global electronics supply chain, and a secure supply of microelectronics is critical to U.S. national security and economic prosperity.
Taiwan Semiconductor Manufacturing Co. (TSMC), one of the world's largest semiconductor contract manufacturers, is an industry partner.
Purdue has secured funding for the consortium from TSMC and Synopsys, Inc., and through collaboration with the DOD-supported Scalable Asymmetric Lifecycle Engagement Microelectronics Workforce Development program (SCALE).
Synopsys, a U.S.-based global leader in electronic design automation (EDA) and semiconductor intellectual property, will be the consortium's founding EDA member. The company offers the industry's broadest portfolio of application security testing tools and services.
CSME will provide advanced training opportunities to SCALE participants, while SCALE will support CSME through graduate traineeships, addressing the urgent need for engineering graduates with microelectronics skills. At Purdue, the SCALE program, directed by Peter Bermel, associate professor of electrical and computer engineering, connects Purdue Engineering faculty with 14 other universities, the DOD, NASA, Department of Energy National Nuclear Security Administration (NNSA) labs, and the defense industry to create a microelectronics workforce focused on meeting national security requirements.
Purdue has issued an invitation-only request for proposals for research projects within SCALE thrusts, with grants to be awarded before the beginning of fall semester.
Active role in rejuvenating semiconductor industry
"The semiconductor industry is the foundation essential to the economy and security of our age. Purdue is proud to partner with TSMC, the dominant semiconductor manufacturer in the world," said Mung Chiang, John A. Edwardson Dean of College of Engineering and Roscoe H. George Distinguished Professor of Electrical and Computer Engineering. "We are excited to launch the Center for Secure Microelectronics Ecosystem, also with Synopsys, DOD-funded workforce development, and other academic collaborators. As the largest engineering college ever to be ranked among the top five in the U.S., we will take an active leadership role in the rejuvenation of semiconductors in the U.S. and partner countries."
"The Center for Secure Microelectronics Ecosystem is a critical partnership that will help to address the growing global demand for secure semiconductor chips," said Theresa Mayer, Purdue University executive vice president for research and partnerships. "By leveraging Purdue's strengths in advancing microelectronics technology, and by bringing together these leading organizations from across the world, we can speed research and innovation to ensure solutions at every stage of the supply chain."
Secure microelectronics is a critical research focus area identified under Purdue's new National Security and Technology Initiative. The initiative, announced by Purdue on April 9 as part of the University's Next Moves, is one of five that will advance the University's competitive advantage.
Three key distinctions
"Our approach to the microelectronics ecosystem challenge is unique in three ways that will benefit all involved," said Joerg Appenzeller, CSME co-director and the Barry M. and Patricia L. Epstein Professor of Electrical and Computer Engineering. "The center is based on partnership with industry and government, academia is driving the initiative from the ground up, and we're merging research and workforce development."
"CSME will offer an opportunity for graduate and undergraduate students across universities to conduct integrated research projects with direct ties to industry and government," said Anand Raghunathan, CSME co-director and the Silicon Valley Professor of Electrical and Computer Engineering. "Through this model, researchers will be trained to develop solutions to industry-relevant challenges, and they will be able to validate their results through prototype chips fabricated at TSMC."
For more information, contact Ed May, CSME managing director, at elmay@purdue.edu.
Source: Center for Secure Microelectronics Ecosystem launched at Purdue with TSMC, Synopsys
Share