Notice! This document is currently in Archived status.
The content of this document may be incorrect or out dated.
Knoy 202: Finishing Up
If you're the last person to leave Knoy 202, please follow these steps.
---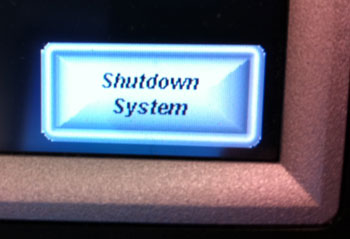 1. Touch the "Shutdown System" button on the Crestron touchscreen.
When you are finished with your session, please shut the system down by touching the "Shutdown System" button on the touchscreen.
The projector will enter a cool-down phase ... and within several minutes it will automatically enter sleep mode.
The video displays will enter sleep mode right away.
---
2. Make sure the Polycom audio unit on the conference table is set to mute.
2A. Press the Mute button, which is the red button at the lower-right corner. (See the yellow circle in the photo at right.)
2B. Verify that the status lights are red (see the yellow arrows in the photo) and/or that "Mute" appears on the display.
If you forget to mute the Polycom audio unit, conversations in the room will be unintentionally broadcasted to remote callers!
---
3. Make sure the lights are off and the door is locked.
Please turn the lights off and ensure that the door is locked behind you when you leave.
---
Back to Knoy 202 Table of Contents or Getting Started.
Last modified: 2017/04/26 08:49:13.021811 GMT-4 by shawn.w.whitaker.1
Created: 2011/04/12 08:30:44.358000 GMT-4 by john.a.omalley.1.
Categories
Search
Type in a few keywords describing what information you are looking for in the text box below.