Alertus
Purdue University now has an alert system that can be installed on university-owned desktop computers.
In the event of an emergency, the University can send alerts that will display on your computer.
More information about Alertus can be found at the ITAP link below.
https://www.purdue.edu/apps/account/IAMO/Purdue_Alertus_Info.jsp
All ECN-supported Windows 7 desktop systems should have the Alertus Desktop Client installed.
To confirm if Alertus is installed, you should see a Yellow icon similar to the one shown below.

If you have tray icons hidden like the following, clicking on the small arrow at the left should pop the
tray icons out so that Alertus is visible.

If the Alertus icon is not displayed and you do not find "Alertus Desktop" listed in your start menu, contact
ECN support at http://www.purdue.edu/ECN/contactus.
If you would like to verify what an Alertus alert looks like, you can right-mouse click on the Alertus icon
and select "View a Test Alert" and the following message should be displayed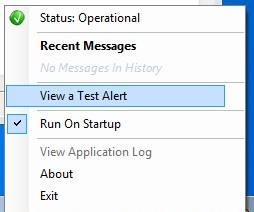 Last modified: 2018/05/21 16:15:52.871501 GMT-4 by shawn.m.kaluf.1
Created: 2017/02/24 15:19:48.167964 US/Eastern by shawn.m.kaluf.1.
Categories
Search
Type in a few keywords describing what information you are looking for in the text box below.