Webex Tips and Tricks
Have you looked at the available Tabs when you first log into purdue.webex.com?

We're mostly familiar with just the first tab, "Webex Meetings", but we don't spend very much time even in that section's preferences.
Enabling calling in via phone:
When you click on Schedule a Meeting, you should change the Audio to Webex Audio if you will have people attempting to call in using a phone. The VoIP default allows only people with computers to join in.
Enabling a "Lobby":
Enabling a lobby is a bit counter intuitive, go to the tab My Webex > Preferences> My Personal Room > Automatic Lock, and enable it. This locks the room, AND enables the Lobby feature. Note: The Host of the meeting MUST use the webex app (not just the web browser) to allow people into the meeting. Attendees can attend via browser.
Setting an alternate host:
Alternate Hosts can be set under the tab My Webex > Preferences> My Personal Room > Alternate Host
All Hosts (regular or alternate) MUST have logged into purdue.webex.com using the login button, using their Boilerkey credentials. Alternate Hosts cannot be set if they have not completed this step.
All alternate hosts must be invited using the same email address that they use in webex.
If the Alternate Hosts are TAs, please have them:
Go to purdue.webex.com, click on the Log In link on the top right hand side, use their boilerkey to sign in. Then,
Fill out the Qualtrics form at: https://purdue.ca1.qualtrics.com/jfe/form/SV_0VqgWMFG08Pmy5n and submit, to get the (non-telephony) student-based limits lifted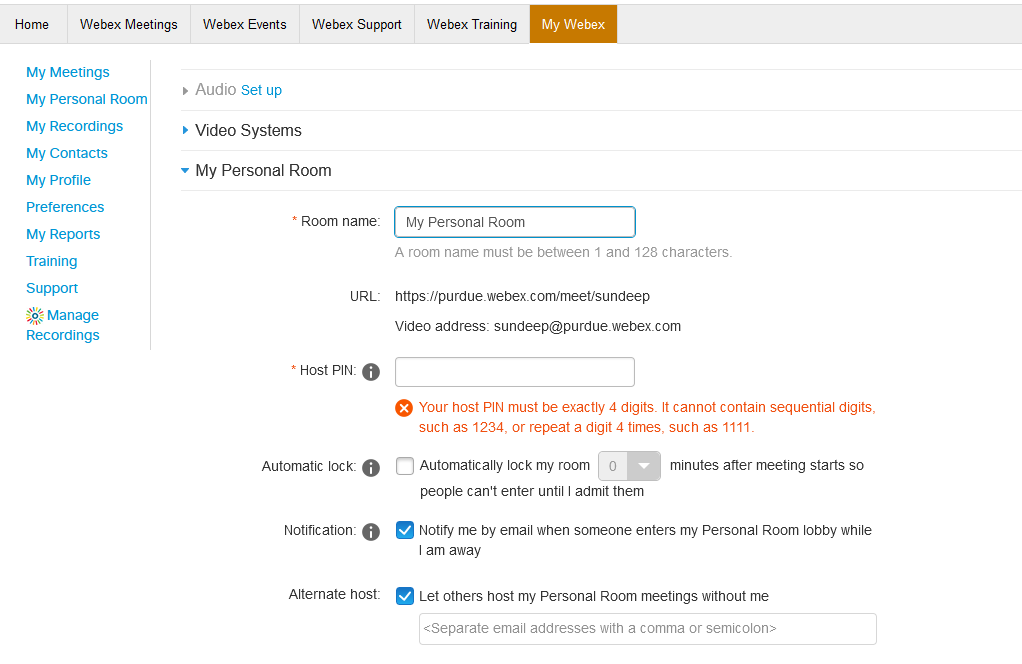 Of the available tabs, the least useful is the Webex Support. You can achieve 90+% of the functionality with simple screen sharing.
Webex Events:
Setting up a Webex Event is useful if you want Panelists, a Q&A app for Panelists to see questions, pick some to answer, and mark then answered. You can also set up Registration for Events, automatic approval of people wanting to register, automated emails for attendees, a post-attendance survey, etc.
To see your list of available options, click on Webex Events, and from the left panel, choose 'Schedule an Event'. We recommend you follow the options in order, and make your choices in sequence – the layout looks far more confusing than actually stepping through the process.
One of the major choices in Basic information is whether you wish attendees to register or not.
Another major choice is presented when you choose your Panelist list – there's a checkbox that allows you to set a Panelist as an Alternate Host.
We also suggest muting all attendees and set Entry and Exit tone to 'None'.
Webex Training:
A Training Session is useful for setting up a classroom section with breakout rooms. The major points here are: Choose your Audio type carefully (VoIP is for computer-only, webex audio allows for call-ins)
The Date and Time section are of interest here: allowing you the following choices:

The Single session and irregular sessions are self explanatory. The recurring single session and multiple session are only relevant to registration. If you are repeating the information, it's a recurring single session. If it's a series, it's a multiple session. The gotcha to this is that you cannot schedule a class for more than 30 sessions – irrespective of the choice you make here. You could build one out, save it as a template, and repeat it for the next 30 sessions.
The In-session Hands-on labs are not available for our use.
This section also has the 'Alternate Host' option along with the panel that allows you to choose additional Presenters.
How to access and share recordings:
Our colleagues from CLA IT made this spiffy reference document for managing recordings:
https://www.cla.purdue.edu/facultyStaff/it/instructionaltechnology/webexrecording.pdf
Last modified: 2021/02/25 08:00:0.026608 US/Eastern by sundeep.rao.1
Created: 2020/08/12 14:25:53.935274 GMT-4 by sundeep.rao.1.
Categories
Search the Knowledge Base