WebVPN (Purdue Virtual Private Network) in Mac OS X
ITaP provides a Virtual Private Network (VPN) service to the Purdue community; you'll need it when you are off campus to map a network drive to your ECN home directory and/or to use Microsoft's Remote Desktop Connection to connect to a Windows PC, among numerous other services.
You might know ITaP's VPN service by the names "WebVPN" or "AnyConnect Portal" ... or you might know that a Cisco client application is one way to access the service.
This article provides notes for Macintosh users connecting to VPN for the first time and for Mac users who might be seeing problems on later attempts.
These instructions are based on OS X 10.8.4, Safari 6.0.5, and ITaP's VPN service as provided in September 2013; later versions of OS X, ITaP's VPN service, and/or Cisco software might mean these instructions will need to be adapted.
---
Getting Started
On your Macintosh, launch a web browser (e.g. Safari, Firefox, or Chrome) and go to this page:
This is ITaP's "AnyConnect Portal" page. If everything progresses automatically and (after perhaps 30-60 seconds) you see a prompt for your Purdue Career Account username and password, you're all set; enter your credentials and you'll be connected to Purdue's VPN.
If the automation doesn't work, you might see this: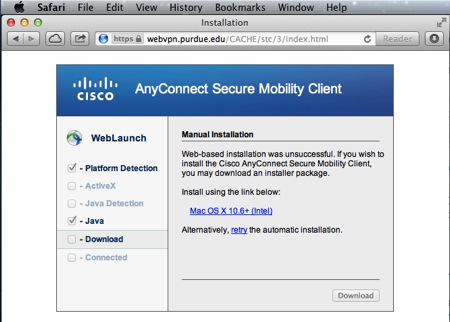 The "Manual Installation: Web-based installation was unsuccessful" error might indicate either a problem with or the absence of Java client software on your Macintosh. Java is a programming language owned by Oracle Corporation which allows developers to write software which can run on any computer platform (e.g. Macintosh, Windows, Solaris) for which a Java client is available. Due to security vulnerabilities in some versions of the Java client for Mac, Apple stopped including Java in OS X 10.7 "Lion" and later versions; users who need Java must download and install it themselves. Further, if an installed Java client goes out-of-date, Apple has programmed the most recent versions of OS X to disable it automatically.
There are two potential ways to proceed:
Download, install, and run the Cisco VPN client manually. See step #1, below.

Install (or update) Java and then try using the webvpn.purdue.edu page again. See step #x, below.
---
Proceed without Java

1. If you see the "Manual Installation: Web-based installation was unsuccessful" alert as shown in the screen illustration above, clink the "Mac OS X 10.6+ (Intel)" link provided on that web page. Cisco's "AnyConnect" client installer will be downloaded.
2. Locate and open the "AnyConnect" archive in your Downloads folder. (In the illustration at right, the user has clicked the Downloads icon on the Dock, and the file "anyconnect-macosx-3.1.03103-web-deploy-k9.dmg" is at the bottom of the menu. Click it to open the archive.)
3. In the "AnyConnect VPN" window which appears, double-click the "vpn.pkg" icon to launch the installer. The following window will appear:
4. Start by clicking the "Continue" button ... and then follow all of the on-screen instructions you see (all of the default choices are fine) to complete installation of the software. When it's done, the window will say "Installation was successful." Close the installer.

5. Open your Mac's Applications folder, and then open the Cisco folder. Double-click the icon named "Cisco AnyConnect Secure Mobility Client."
(The software's icon is shown in the illustration at right.)
The Cisco client will launch, and its window will look like this: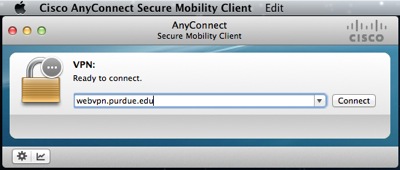 6. In the field below "VPN: Ready to connect", type exactly the following:

webvpn.purdue.edu
7. Then click the "Connect" button.
8. A username and password prompt will appear. Enter your Purdue Career Account username and password, and then click the "OK" button.
The Cisco client will connect to Purdue's VPN service. If the connection is successful, the window will disappear. You may now begin any activities which require a Purdue network presence -- mapping a network drive, remotely connecting to a campus computer, etc.
9. Disconnecting from Purdue VPN.
The Cisco software adds a menu to your Mac's menu bar near the top-right of your screen. After clicking the appropriate icon in the menu bar, here's what the menu looks like:
When you no longer need a Purdue network presence, do either of the following:
Select "Disconnect" from that menu. You will be disconnected, and the Cisco software will remain open.
Or, select "Quit Cisco AnyConnect." You will be disconnected and the software will close.
Repeat steps #5 through #8 to connect to Purdue VPN again.
---
Install or update Java
This section is optional. If you did the steps in the previous section (in particular, steps #1 through #4), you do not need to proceed.
[This documentation will be completed later.]
Last modified: 2020/03/11 13:56:41.908300 GMT-4 by sundeep.rao.1
Created: 2013/09/24 12:46:26.238901 GMT-4 by john.a.omalley.1.
Categories
Search
Type in a few keywords describing what information you are looking for in the text box below.