Print this article
Edit this article
A History of Purdue Pete
This archive is no longer being actively maintained, but ECN is retaining it for historical purposes. We will correct any errors, so if you believe you see something wrong, please email corrections to webmaster@ecn.purdue.edu.
ECN would like to give credit as well as thanks to Jay Cooperider of Inside Purdue and Ted A. McKinney, a former Pete, for their help in providing content for this site.
Pete's Origins and History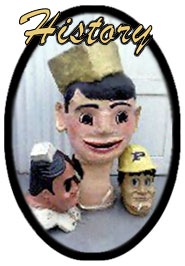 Purdue Pete ran onto the field in 1956, at the pep rally before the September 29 Purdue-Missouri football game. However, that was not the first time that Purdue students had heard of their new mascot.
Purdue Pete can trace his heritage back to 1940 when University Book Store owners Doc Epple and Red Sammons hired artist Art Evans to create Pete an advertising logo. However, Pete didn't get his name until four years later.
In 1944 the Purdue yearbook, Debris, wanted to use Pete on the cover. The editors went to Epple and asked for Petes name. According to one account, Epple out of the blue said "Pete". So the famed Boilermaker was named, and in the 1944 issue of Debris, Purdue Pete was everywhere. Pete wouldn't assume a human form for another 4 years after that. The 1948 Debris yearbook hosts the first photograph of Purdue Pete.
In 1956 athletic director Guy "Red" Mackey gave the go ahead to create a sports mascot to inspire fans at home football games. Larry Brumbaugh was selected to be the first Pete by the Pep Committee. Brumbaugh was then faced with the task of finding a costume for Pete. "I tried to contact some costume companies, but I didn't even really know what I was looking for," said Brumbaugh. "Finally a woman in my hometown who was artistic with papier-mâché made it."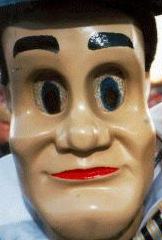 That woman was Mrs. John Keltner of Union City, Indiana. The early costume included a uniform donated by the athletic department and a mallet and head made of papier-mâché backed by chicken wire. "It didn't fit very well." Brumbaugh said. "So you just kind of followed along with the cheerleaders, but you didn't do much moving around." After Brumbaugh graduated, John Note took over the job as Pete. He recalls Pete in a similar fashion, "You were just out there kind of freelancing."
Over the years, Purdue Pete has undergone many changes, as illustrated by the photos in this section. Pete has endured theft, disrepair and changing styles. Pete evolved from a smallish papier-mâché version to a huge fiberglass version that was more harness than head, and finally to a smaller version made of fiberglass as well. Pete's demeanor has changed from the contented grin created for Larry Brumbaugh to a version with a mouth that doubled as eye-holes to an angry-and-furrowed Pete and back to the Pete he is today.
"It's fascinating to see the evolution of Pete through the years." said Dr. Bill Rodkey, a former Pete. "Times have changed and so has Pete."
Being Pete
Being selected as Purdue Pete is an honor that has belonged to many people over the past 45 years. There are only four Purdue Petes selected for each year.
According to a Petes representative in the athletic office, about fifty people tryout for the role of the mascot each year. Of those fifty, six to ten are selected for the final cut. These finalists must then perform a skit that they themselves create. The selection committee then brings the number of contestants down to a final four.
The four Petes share the responsibility of being both Purdue mascots, Pete and Rowdy, at football and basketball games, other athletic events and activities around the community. Each year, all four Petes attend the National Mascot Competition. There they have the chance to strut their stuff against mascots from other schools around the country.
For information about tryouts, reunions, and Purdue Pete appearances, check out the Purdue Sports website.
Petes of the Past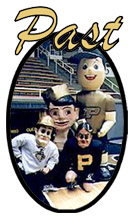 Over the years there have been many men who played the role of Purdue Pete. The name of all of those men has never been kept in an official record so it is somewhat sketchy. We have tried to piece together an accurate record. So without further delay...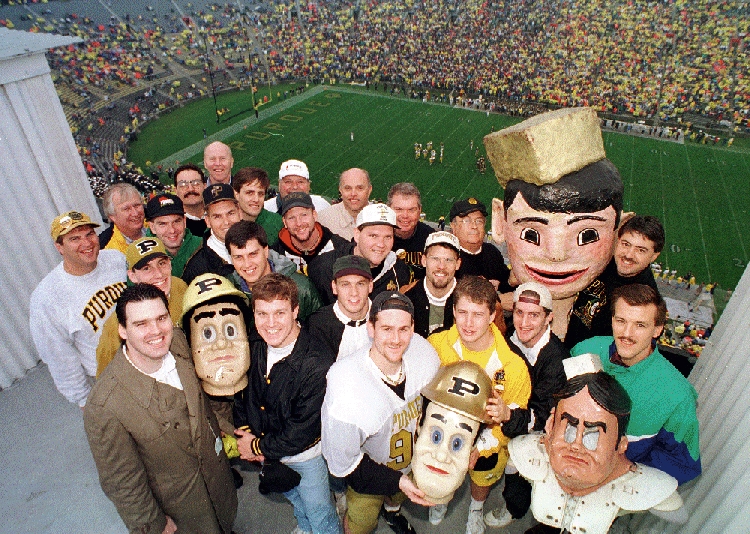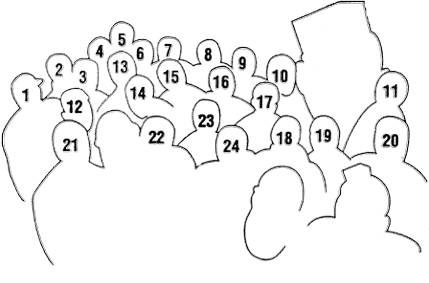 Picture Legend
Chris Lynch
Charles Whittington
David Renicker
Pete Bodine
John Thompson
Kevin Walburn
Rick Pottenger, Jr.
Dr. Bill Rodkey
Mike Parks
John Knote
Ted McKinney
Strawn Markle
Jeffrey Bundy
Andy Gentry
Adam Vanderwielen
Jeff Bell
Kevin Wine
John Whittington
Brian Crane
David McGaughey
Jim Butz
Jeff King
P.J. Pescarin
Patrick Cottler
Not Pictured
Larry Brumbaugh
David Rhoads
Van Betulius
Morris Jackson
Jeffrey S. King
Tim Martin
Dave Coleman
Sean O'Conner
Kyle Shaw
Steve Birky
Adam Harger
Luke Simons
Charlie Nichols
Alan Sockwell
Lawrence D. Tolle
Jacob D. Nichols
David Newton
Kirk Hornocker
Community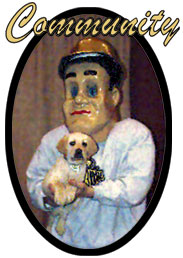 Purdue Pete is not only a fixture at athletic events but he is involved with the community as well. Pete attends numerous charitable events each year and makes visits to schools to promote A drug free environment. Pete is involved in hundred of events each year. 
"You do a lot of outreach for Purdue, and that's great," says John Whittington, a former Pete. He recalled an appearance at the Lafayette YMCA when kids were getting shots. "They come in a little scared, but when they see Pete, they start having fun and relax," he says.
"You're like Mickey Mouse," says Rick Pottenger, '66-'67 Pete. "Kids instantly love you."
Other Stories
Throughout his 45 years, Purdue Pete has endured his fair share of hardship and ridicule at the hands of opposing fans. Several of the former Petes recall times when Pete was an unwelcome sight.
Chris Lynch, 1985-86 Pete recalls a 47-0 pounding of Purdue by Michigan in the rain. He was in the end zone struggling to take off the head when two guys tried to grab and take the head from him. Lynch was able to elude one of the tormentors and the Michigan Stadium security grabbed the other. "The police called me Monday to ask whether I wanted to press charges," Lynch said "I didn't."
John Knote, 1957-58 Pete, remembers an encounter he had with the Wisconsin mascot: Bucky Badger. Bucky Badger grabbed the mallet that Pete carries with him. Pete took chase after Bucky. "I lost my head hitting Bucky Badger in the end zone," he said. "The next day on the sports page, a reporter called it the best tackle of the game."
Ted McKinney and Rick Pottenger both remember having apples thrown at them in Michigan Stadium.
Pete has lost his head a couple of times, literally. Pete lost his original head in 1962 on the way back from Iowa City. Pete's head was in the back of the Boilermaker Special when a strong gust of wind blew it out into the road. The crew stopped the Special and searched for hours for the head without any luck. The only thing they found was little piece of the shoulder pad.
McKinney lost his head in Evanston after a Northwestern basketball game. He remembers the 1981 incident well.
"I was scheduled to travel to Evanston, IL, for the game against Northwestern, but had a competing job interview out of state that day. Flight connections into the Chicago area that afternoon were halted because of terrible fog, thus my absence. The cheerleaders with whom Pete traveled had graciously taken him to the game, but couldn't be expected to watch him for the game's duration. Sometime during the game, Pete was taken and didn't reappear for several months, and even then reappeared in someone's dorm room window at the University of Notre Dame. By that time, basketball season was over as were most of the Purdue Pete appearances."
By this time, a new head was already under construction.
McKinney also recalls the transition from a single mascot to multiple Petes.
"It was the fall of 1978, my first year, when the University opted for there to be two "Petes." As was shared with me by Sally Combs and Dick Thornton, the reasons were twofold. First, in addition to the obvious men's basketball and football, women's basketball and volleyball had been added as "revenue" athletics, and as a result, "Pete needed to attend all home events for these two sports. Second, the University sought for Pete to travel to more alumni events around the state, thus requiring a fair amount of time. Finally, although not a requirement, "Pete's was encouraged to attend at least two home events for all other men and women's athletics, an enormous challenge. The net of this is that more than one person would be required to fulfill the duties."
Last Modified: Sep 18, 2018 3:10 pm America/New_York
Created: Aug 12, 2014 10:20 am GMT-4 by admin
JumpURL:

Search the Knowledge Base