Print this article
Edit this article
PC Desktop Recommendations
ECN's User and Desktop Services group is frequently asked to provide specifications and Purdue pricing for new Windows- and Linux-based desktop computers which will be purchased with Purdue funds. Most faculty, staff, and students will find their needs will be easily met by this year's "standard desktop," which is designed to provide sufficient performance for at least 4 years. (To determine the approximate age of an existing Dell computer, see our Dell model years page.)
Each new desktop includes a choice of monitor sizes. See the monitors resolution comparison.
With the growth of remote work and limited space, one might consider a laptop and a possible dock with one or two monitors as a primary system instead of a desktop system. (Please read about the benefits of using an ECN-Domain computer.)
---
Standard Desktops
*** Note: Due to multiple issues outside of the manufacturer's control, we are seeing extended delivery times for IT equipment. ***
**Prices shown below are approximate and subject to frequent change**
* Returns for many items are either difficult or disallowed by vendor, please look over the order carefully before approving*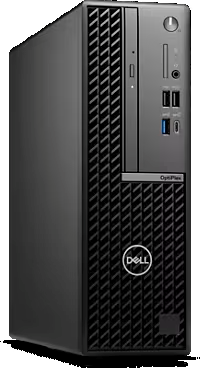 Standard Desktop: OptiPlex+
 

Estimated Cost:

Est. cost with no monitors:                                             $1,322.00

Est. cost with (1) Dell 24" monitor and sound bar:    $1,525.00

Est. cost with (2) Dell 24" monitor and sound bar:   $1,696.00

Logitech c920 Webcam:                                                  $60.00

Logitech USB Headset H540:                                         $45.00

 Includes: 

32 GB (2x16GB) memory

M.2 2280 1TB PCIe NVMe Class 40 Solid State Drive

Intel Core i7-13700 (8+8 Cores/30MB/24T/2.1GHz to 5.1GHz/65W)
AMD Radeon RX 6500 4GB GDDR6, low profile, 2 mDP, DP capable of driving two monitors (even if you intend to use only one monitor)
5-year ProSupport Plus
No optical drive
Supports Windows

 

Monitor Options

 

  

 Dell 24" Monitor -P2422H Full HD  Est cost: $171

  

 

Dell 27" Monitor - P2722H (1920x1080)Est. cost: $200
---
Ordering. When you're ready to order, please contact ECN. We'll confirm the order details and ask you to provide the Purdue account number to be charged (working as needed with your business office). ECN will also handle placing the order.
*CAUTION* CAUTION* CAUTION* If you intend to use a Linux OS on this PC please make sure to specify this in your request. ECN Linux installations have strict hardware requirements.
You may consider the info above to be ECN's official quotation for a standard new desktop PC, but as mentioned above pricing and specifications are subject to change. If the actual cost varies by more than a few dollars or if hardware specs have changed significantly, ECN will update you prior to proceeding with your order.
---
Workstations and Specialized Desktops
For groups who employ software which requires a computer with a high-performance architecture, ECN recommends purchasing a Workstation model from Dell's Precision, or HP's Z series. Pricing starts at about $1400. If you need the fastest-available processors and/or more than 16.0 GB RAM, expect costs to escalate quickly. 
*CAUTION* CAUTION* CAUTION* If you wish to use any Linux OS: please specify this right away - ECN Linux installations have strict hardware requirements.
For CentOS 7: Precision 3660 with an add-in NIC, or Precision 5820.
For Ubuntu 22.04: Precision 3660, Precision 5820, or Precision 3460.
For groups looking to purchase Machine Learning, Deep Learning, and Data Acquisition PCs or parts, we also have Alienware Aurora lines, as well as Exxact PCs that we can help you spec out. Please also see our KB article at: http://eng.purdue.edu/jump/b814d7 . 
For all specialized desktops, please contact us to discuss your specific needs.
See our Dell Model Benchmarks page for an approximate comparison of potential system performance. If you do GPU intensive work, see the KB at http://eng.purdue.edu/jump/2264173.
---
Undesirable models or other brands
We purchase specific models from Dell's OptiPlex and Precision Workstation lines. For these business-grade models, ECN has direct on-line access to Dell Support when needed. On-site service is provided when necessary.
Other model lines (e.g. Dell Inspiron, Dell Studio XPS) are designed for home users, not businesses;  obtaining service for them includes the possibility of long waits in a telephone queue, and/or needing to ship hardware back to the manufacturer for service. For purchases with Purdue funds, ECN recommends against them unless you have some very specific needs.  It's usually not worth your time to purchase these or to attempt to obtain service, and it also takes ECN and the Business Office extra time to work on these.
Other brands: ECN's preference for specific desktop brands and models (e.g. Dell OptiPlex, Dell Precision, HP Z-series workstation) is based on service arrangements. Purdue has an arrangement with Dell, for example, which provides for expedited acquisition of Dell OptiPlex and Precision replacement parts as well as on-site service by a Dell technician when necessary. Unlike most other brands whose service centers are at least 60 miles away, Dell's service technicians for business customers in this region are based in Frankfort, Indiana, and they visit West Lafayette to provide on-site service on a daily basis. Arranging for service for other brands (e.g. Acer, Sony) will likely be very time-consuming and inconvenient at best.
Justification: Campus-wide processes are now in place designed to keep Purdue's acquisition and ownership costs in check. If you opt to purchase an alternate brand or model, please note that the procurement process requires that you provide justification for your selections.
---
Future Models
Historically, Dell changed models every 12-18 months. Our Dell Model Benchmarks page shows performance comparisons of various computer models.
To determine the age of legacy models, see our Dell model years or HP model years page.
---
Monitors
ECN recommends monitors from Dell's commercial UltraSharp or Professional model lines; one of these models is included with the ECN standard desktop PC. When purchased on the same order as a new computer, each Dell UltraSharp or Professional monitor includes the same warranty coverage as the computer itself -- which, as of April 2013, is typically 5 years.
Dell UltraSharp or Professional monitors purchased separately from new computers are typically available with a choice of 3-, 4- or 5-year warranties.
Dell's E-series monitors are designed for home users, not businesses, and ECN does not recommend them. E-series monitors come only with 1-year warranty coverage; a variety of features, such as height-adjustable stands, are omitted from E-series monitors.
See our monitors resolution page to compare legacy and current Dell commercial-grade monitors ECN users have purchased.
---
How long until my order arrives?
For the standard desktop model described near the top of this page, new orders sometimes arrive as quickly as 7 to 10 days after the order has been received by the vendor ... although we usually suggest expecting to wait at least 14 days between ECN's placing of the order and our receiving it. Custom PCs, including most Dell Precision models, typically take 14 to 21 days after ordering before ECN receives the shipment.
ECN also usually needs from an additional one to several days to prepare the computer(s) for delivery to your office or lab, based on our availability and the level of complexity of your specific software environment.
---
Software
A list of software licenses for Purdue-owned PCs are available (Login required). Please also read about how ECN handles unsupported software.
---
How often should my computer be replaced?
For faculty and staff, ECN's general recommendation is that you (or your department head or director, on your behalf) should be ready to buy a new computer as soon as your primary computer's warranty coverage ends. (ECN-Domain computers purchased through April 2013 usually have 4 years of warranty coverage; those purchased in or after May 2013 usually have 5 years of coverage.)
But even after your hardware warranty has expired, you do not necessarily need to purchase a new computer until one or more of the following become true:
The hardware begins showing signs of failure.
Its performance has become consistently sluggish, even after ECN has "redeployed" it.
Its specifications are inadequate to support the latest version of the operating system and/or application software essential to your work.
Our experience has shown that some computers will continue to be workable into a fifth or sometimes sixth year of service. By reserving funds in the departmental budget to replace your primary computer after warranty coverage ends, you will be sure to have a workable, ECN-supportable computer at all times. Budget savings will be realized, though, every time a computer remains in service beyond its warranty if it's still providing adequate performance to its user.
In other words, budget for it ... but use it as long as possible. We think this might be the way to get the "best bang for your buck."
---
My monitors are working fine. Should I replace just the PC and not the monitors?
For faculty and staff, the general recommendation is to replace the monitors with your PC. This is, however, something that can be visited if budgetary constraints are in effect. The reason we suggest new monitors with a new PC are as follows:
Technology changes. One must make sure that the monitors are capable of newer technologies (eg. Display Port is the current norm, and older monitors don't have this connector)
Monitors fade in brightness over time, especially the CFL backlight variety.
The rate of failure increases past 5 years
Bundling the monitors means that it's easier for warranty returns to happen - decoupling monitor warranties from PCs causes a lot of support overhead while obtaining replacements.
If monitors are not replaced, it is difficult to replace just one monitor at a later date (mismatched resolutions and color, slightly more expensive)
Power consumption and heat generation from older monitors is also something to be aware of.
We often attempt to trickle down monitors to student stations so that we can eke a longer life out of them, and only salvage the oldest and least desirable monitors.
Having said this, we understand if you wish to save on the upfront cost of new monitors. Please discuss this with us while ordering so that we can make sure that your older monitors will work with the newer PC.
Last Modified: Nov 10, 2023 4:30 pm US/Eastern
Created: Apr 2, 2010 8:46 am GMT-4 by admin
JumpURL:

Categories
Search the Knowledge Base