Student Organizations
Purdue Chemical Engineering Ambassadors
The Chemical Engineering Ambassadors act as delegates of the Purdue Chemical Engineering Program in promoting unity among students, faculty, alumni, family, and organizations, as well as reaching out to prospective students, all in an attempt to bridge the Purdue Chemical Engineering Program to the local and global engineering world.
Video: Meet the 2018-2019 Purdue ChE Ambassadors
American Institute of Chemical Engineers (AIChE)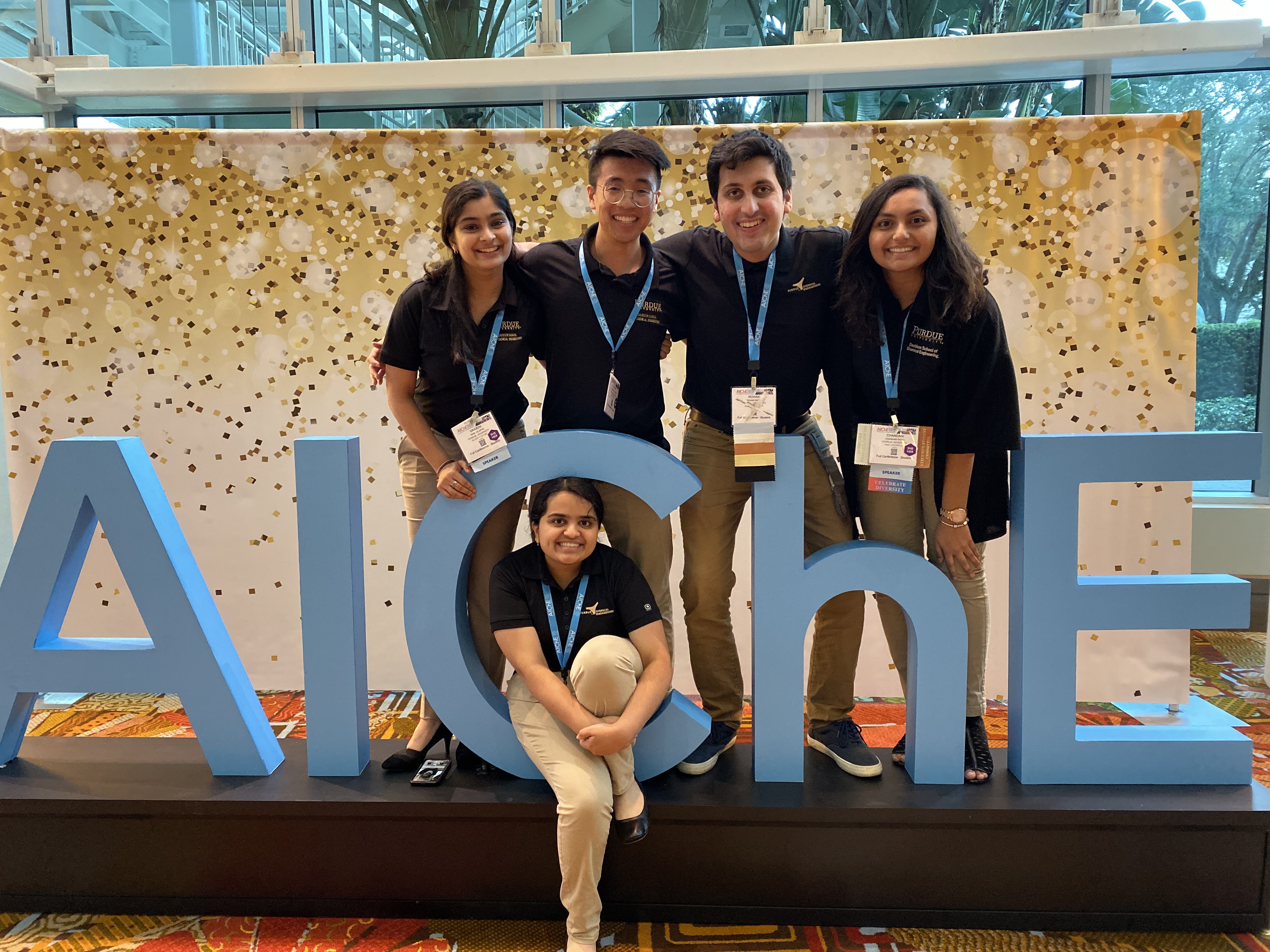 The Purdue Chapter of AIChE, founded in 1929, has over 700 members, and is one of the most active chapters internationally! Awarded "Outstanding Student Chapter by the National Board for three years in a row, Purdue AIChE has led the way when it comes to student development and networking. Our leadership team is split up into "committees," and each focuses on one of the four tenets:
Connecting students with students
Connecting students with industry
Connecting students with faculty
Connecting students with the community
Website: https://engineering.purdue.edu/AIChE/
ChE Graduate Student Organization

The Chemical Engineering Graduate Student Organization (ChE GSO) has three main objectives:
To provide a link between students and faculty
To aid in the professional growth of graduate students
To foster a sense of community in the School of Chemical Engineering
Website: https://engineering.purdue.edu/~gso/
ChE SAC - Student Advisory Committee
The mission of ChESAC is to facilitate communication between students and faculty for the betterment of the chemical engineering department. The Council consists of four executive officers and eight student at-large representatives.
Website: https://boilerlink.purdue.edu/organization/chemicalengineeringstudentadvisorycouncil
Minority Engineering Program
The Minority Engineering Program at Purdue University was initiated in 1974 as one of several initiatives to improve diversity and inclusion in the College of Engineering. Purdue's Minority Engineering Program is committed to engineering research and knowledge sharing with the international community through peer-reviewed publications and conference presentations. Although we strive to attract students from historically under-represented groups, namely African American, Hispanic American, and Native American, our programs are open to all. MEP has been the key to Purdue's successful graduation of more than 2,700 engineering under-represented minority students to date. It is because of this success that other colleges and universities across the country have adopted Purdue's Minority Engineering Program model.
Our mission is to advance engineering learning, discovery, and engagement in fulfillment of the Land Grant promise through outreach, recruitment, and retention of historically underrepresented students in their pursuit to become extraordinary Purdue engineers.
Website: https://www.purdue.edu/mep/
National Organization for the Advancement of Black Chemists and Chemical Engineers (NOBCCHE)
NOBCChE is an organization committed to the professional and educational growth of under-represented minorities in the sciences. The purpose of the Purdue University NOBCChE Chapter is to provide a support system which enables minority students to improve their academic and professional performance in science and chemical engineering. Our chapter contributes to Purdue University's student body and local community through serving as role models to students from elementary to graduate school, and stimulating their interest in pursuing both undergraduate and graduate degrees in scientific disciplines.
Website: https://www.chem.purdue.edu/nobcche/
National Society of Black Engineers (NSBE)
The National Society of Black Engineers (NSBE), with more than 28,000 members, is one of the largest student-run organizations in the country. The Society is dedicated to the realization of a better tomorrow through the development of intensive programs for increasing the recruitment, retention, and successful graduation of minorities in engineering. NSBE is comprised of over 220 charted chapters located on college and university campuses throughout the United States. These chapters are geographically divided into 6 major regions. NSBE had its genesis at a National Conference planned and hosted by the Society of Black Engineers here at Purdue University in April of 1975. From this meeting of concerned students and educators, NSBE was incorporated as a non-profit corporation in the State of Texas. NSBE also became recognized as a tax-exempt organization under Section 501 c.3 of the Internal Revenue Code.
Our mission is to increase the number of culturally responsible black engineers who excel academically, succeed professionally, and positively impact the community.
Website: https://boilerlink.purdue.edu/organization/NSBE
Omega Chi Epsilon
Omega Chi Epsilon promotes high scholarship, encourages original investigation in chemical engineering and recognizes the valuable traits of character, integrity, and leadership. The Society serves undergraduate students within the Chemical Engineering Department. It encourages meaningful student-faculty dialogue within the department. The following are activities and services OXE provides to the community:
Hold group tutoring sessions for a variety of Chemical Engineering classes
Provide online tutoring videos in order to reach a wider audience
Promote peer to peer networking with regular meetings and social events
Administer outstanding student and teaching awards
Reach out to the younger generations with ChemE Kids Day
Website: https://boilerlink.purdue.edu/organization/omegachiepsilon
Purdue Engineering Student Council
Founded in 1975, the Purdue Engineering Student Council lives by its mission statement of "serving students, serving faculty, serving industry". Since its founding, PESC has risen to have a major campus presence through its career fairs, campus events, and outreach. PESC prides itself on its ability to give back to the greater Purdue community, and is always planning and building new ways to make an impact.
Website: https://www.purdueesc.org
Purdue Student Engineering Foundation
The Purdue Student Engineering Foundation is an organization dedicated to promoting engineering awareness amongst youth, prospective students, Purdue Alumni, Purdue freshmen, and the community. PSEF is an extraordinarily dedicated and enthusiastic group. Through a variety of unique programs, PSEF members work to promote education and careers in engineering, as well as the advancement of engineering in today's society.
Website: https://engineering.purdue.edu/PSEF/
Society of Hispanic Professional Engineers (SHPE)
SHPE's mission is to increase the number of Hispanics entering the field of science, technology, and engineering; to develop and implement programs to assist Hispanics pursuing science, technology and engineering as a profession; to assist active members in their pursuit to earn their degree through academic support; to achieve a spirit of cooperation among the Hispanic community at Purdue; and to expose young Hispanics to the fields of science, technology and engineering through outreach.
Website: https://www.purdue.edu/mep/Current Students/Student Organization and Cultural Center Spotlights/SHPE.html
Society of Women Engineers (SWE)
SWE strives to empower and support women through innovative programs that provide technical and leadership experience in open and encouraging environments. Since 1954, PSWE has been dedicated to motivating young women to attain the highest levels of education and career advancement.
Every year, Purdue SWE hosts over fifty events in professional development, outreach, technical advancement, and socials. These events range from networking with company representatives before career fairs to hosting prospective high school seniors to racing karts in the annual Purdue Grand Prix.
Website: https://www.purdueswe.org/