Faculty, staff, and students celebrated at NE Spring Recognition Seminar
Faculty, staff, and students received various internal and external awards at the department's Spring Recognition Seminar. The following individuals were honored: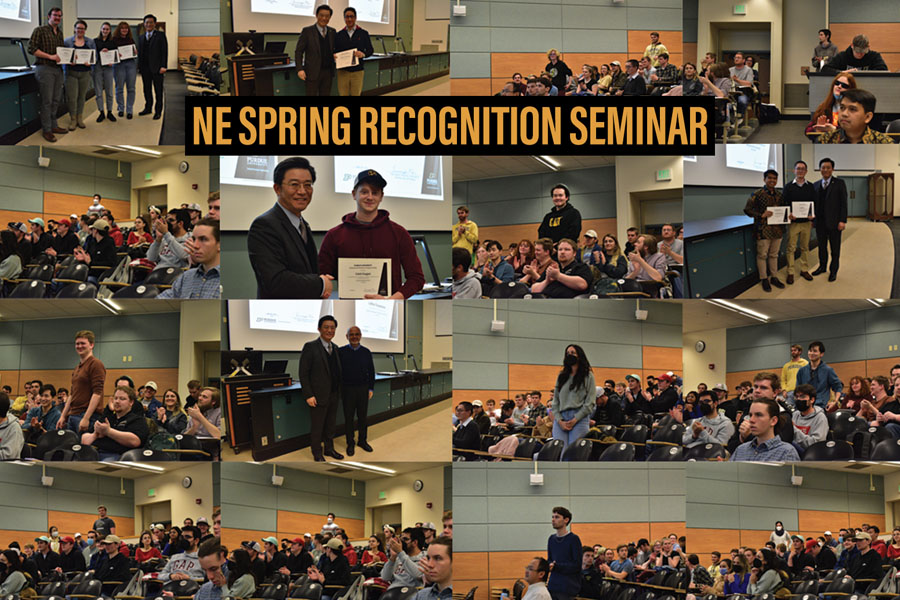 Degrees awarded
BSNE
Nathan Audia, Elizabeth Bramer, Joseph Brannan, Brayden Buckley, Marco Camacho, Richard Capitan, Zachery Dahm, Caleb Duggan, Mitchell Ferrel, Sydney Grahovac, Madison Green, Grant Hengsteler, Erick Hoegberg, James Howard, James Leibengood, Tyler Lewis, Connor Meeks, Andrew Mulrenin, Charles Owen, Jonathan Palmer, Thugilann Raman, Leonardo Roca, Dustin Rodgers, Shelby Scheulen, James Welch, Destiny White
MSNE
Brian Bettes, Amber Gomez
PhD
Junghyun Bae
Internal Awards
Exelon Outstanding Senior
Elizabeth Bramer, Caleb Duggan, Hanne Lucido, Drew Ryan, Morgan Smith
Exelon Outstanding Leadership
Elizabeth Bramer and Hanne Lucido
NE Graduate Research Recognition Seminar Award
Arvind Sundaram
NE Early-Career Graduate Research Award
Muhammad Oktavian
NE Graduate Research Award
Yang Zhao
NE Undergraduate Research Scholarship
Zachery Dahm, Jacob Halpern, James Howard, Tyler Lewis, Milo Scheulen, James Welch
Outstanding Teacher
UG – Stylianos Chatzidakis
Graduate – Lefteri Tsoukalas
Outstanding Faculty Research
Stylianos Chatzidakis
Best Staff
Kellie Reece
Ross Fellowship
Abdulrasheed Sado
Mortar Board
Jake Halpern
Magoon Award
William Richards
Outstanding Graduate Service
Drew Ryan
Outstanding Graduate Research
Adam Darr
Outstanding Sophomore by NISO
Christopher Gaston and Hanne Lucido
Outstanding Faculty Mentor
Hany Abdel-Khalik
External awards
NRC Scholarship
Andrew Mulrenin, Luke Oukrop, Shelby Scheulen, Morgan Smith
NRC Fellowship
Zachery Dahm, David Kang, Logan Joyce, Charie Tsoukalas
ANS Robert E. Uhrig Graduate Scholarship
Styliani Pantopoulou
Roy B. Post Scholarship
Zachery Dahm
DOE University Nuclear Leadership Program (UNLP)
Jake Marr
"Pitch Your PhD" Competition – ANS Conference
Junghyun Bae
Best Movie Award in NURETH-19
Drew Ryan
Learn more about the School of Nuclear Engineering.
Schedule a tour of PUR-1.