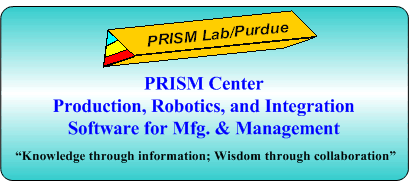 Purpose
The general purpose is the investigation, development, and experimentation of computer intelligence and information technologies for distributed and collaborative production and service systems. Professors from schools of engineering, science, and management collaborate on joint educational, industrial, and research projects. International and visiting scholars join activities on certain projects. The PRISM Laboratory includes multiple interactive CAD and DSS workstations and access to robots and parallel computers.
Research Areas
Assembly and inspection integration
Engineering and design collaboration
Distributed models of networked enterprises
International projects related to the above areas with visiting scholars from Australia, Chile, France, Germany, Israel, Italy, Japan, Korea, Norway, Taiwan, Romania, Portugal, Mexico, Costa Rica, Argentina, and the UK
Till 2009, over 40 small and large companies and over 95 students have participated in the over 60 PRISM projects. Currently, there are twelve active projects in the PRISM Center.

In August 2001 the PRISM Symposium & Reunion on "Integration, Networking, and the Next Decade" took place in West Lafayette, Indiana, co-sponsored by NSF, Indiana 21st Century Research & Technology Fund, and Intelligenceware (Korea), with proceedings published on a CD (ISBN 0-931682-924.) Another outcome of the 2001 Symposium was the establishment of PGRN, PRISM Global Research Network, which has the objective of worldwide collaboration among related and affiliated research centers and institutes. PGRN itself is affiliated with the IFPR Network. Recently members of the PRISM Center and PGRN lead the development of the Springer Handbook of Automation (published 2009). Since 2008, the PRISM Center also participates actively in the HUB-CI Collaboratorium and Collaborative Intelligence School of IE Initiative.