FORMER NASA ASTRONAUT AND ALUMNUS ROY BRIDGES TO BE INDUCTED INTO U.S. ASTRONAUT HALL OF FAME
---
Former NASA astronaut Roy Bridges (MSAE 66) will be inducted into the U.S. Astronaut Hall of Fame class of 2023. A retired U.S. Air Force Major General, Bridges piloted the Space Shuttle Challenger for the STS-51F mission in July 1985 and served as director of NASA's John F. Kennedy Space Center from 1997 to 2003.
2022 MECHANICAL ENGINEERING GRAD IS THIRD PURDUE RECIPIENT OF TOP ASME AWARD IN 103 YEARS
---
Marcus Lannie (ME '22) has been selected as the recipient of the American Society of Mechanical Engineers (ASME) Charles T. Main Student Section Leadership Award, the international organization's highest honor.
---
5 Engineering Alumni Elected to National Academy of Engineering
Five Purdue Engineering alumni were elected to the latest class of the National Academy of Engineering. Election to NAE is among the highest professional distinctions accorded to an engineer.
Ramalingam Chellappa
MSEE '78, PhD '81
---
The Bloomberg Distinguished Professor in the Department of Electrical and Computer Engineering at Johns Hopkins University
Jennifer Sinclair Curtis
BSChE '83
---
A Distinguished Professor in the Department of Chemical Engineering at the University of California, Davis
Deborah Grubbe
BSChE '77
---
President and Owner of Operations and Safety Solutions LLC
Douglas Owen
BSCE '80
---
Senior Principal at Stantec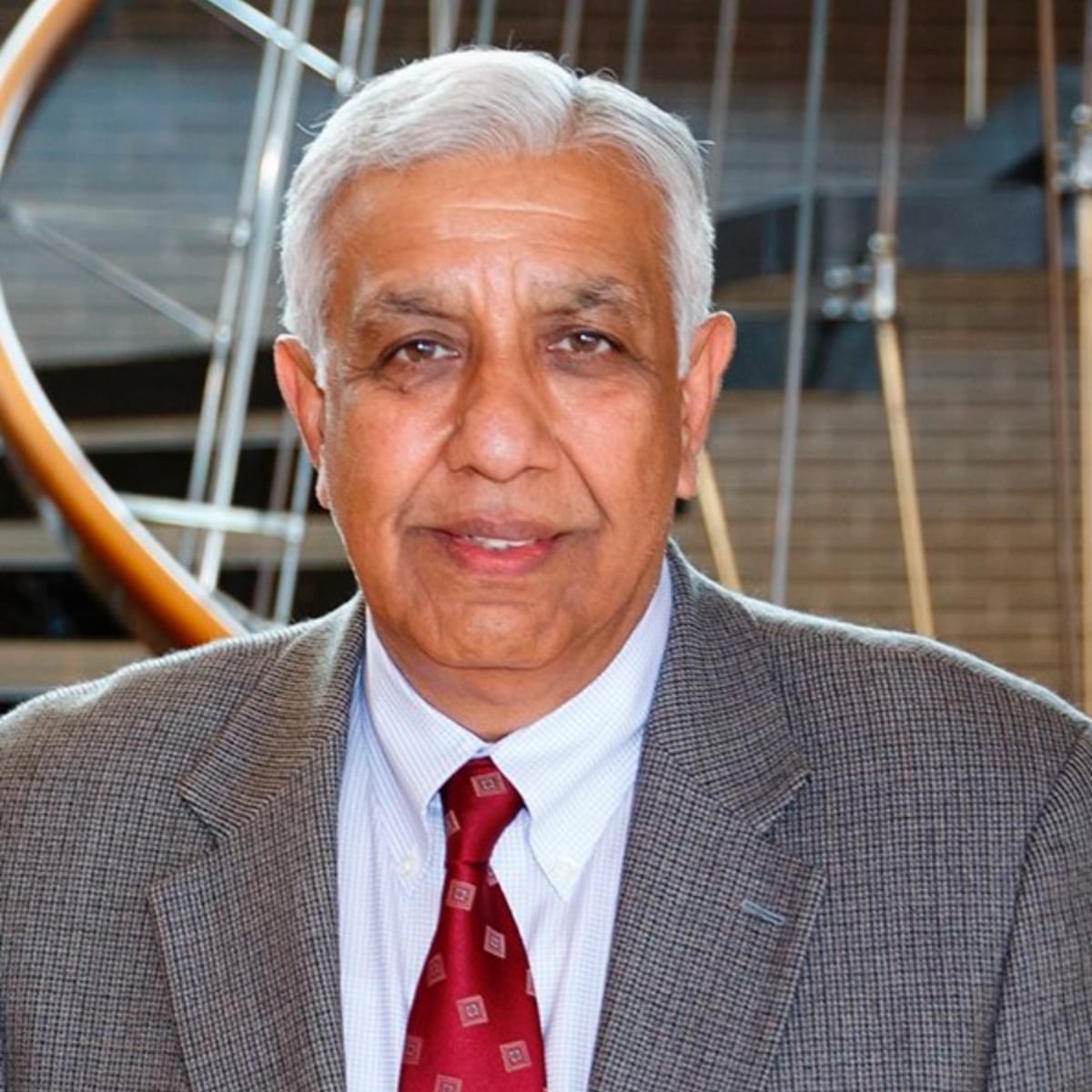 Anil Sachdev
MSMSE '72
---
General Motors Principal Technical Fellow and Lab Group Manager
---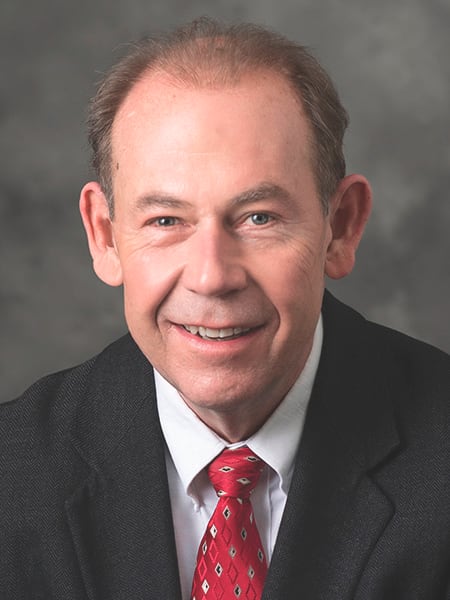 NAE Elects Environmental and Ecological Engineering Head as Member
---
John W. Sutherland, professor and the Fehsenfeld Family Head of Environmental and Ecological Engineering, has been elected to the National Academy of Engineering for his research contributions to environmental sustainability in manufacturing and their implementation in industry.
Industrial Engineering Professor Inducted into NAE
---
Stephan Biller, the Harold T. Amrine Distinguished Professor in the School of Industrial Engineering and The Mitchell E. Daniels, Jr. School of Management, has been inducted into the National Academy of Engineering.
IEEE Mildred Dresselhaus Medal Awarded to Professor
---
Melba Crawford, the Nancy Uridil and Francis Bossu Professor in Civil Engineering is the recipient of the 2023 Institute of Electrical and Electronics Engineers (IEEE) Mildred Dresselhaus Medal for "contributions to remote sensing technology and leadership in its application for the benefit of humanity."
NAI Names ECE's Reibman, BME's Robinson as 2022 Fellows
---
Amy R. Reibman, Elmore Professor of Electrical and Computer Engineering, and J. Paul Robinson, Distinguished Professor of Cytometry, SVM Professor of Cytomics in the College of Veterinary Medicine and professor in the Weldon Scool of Biomedical Engineering, have been named as National Academy of Inventors fellows.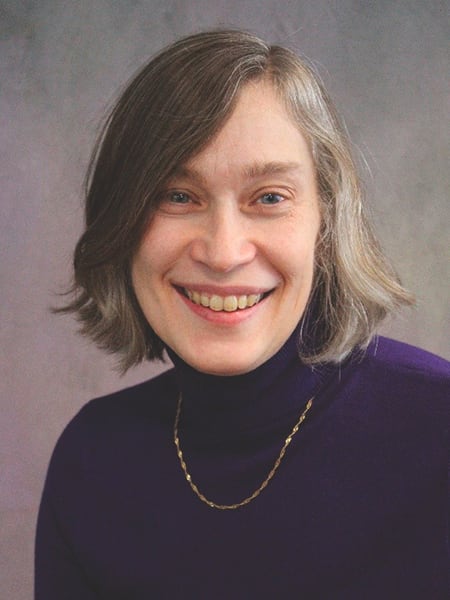 ---
4 Faculty Members Chosen as AAAS Fellows
Purdue is recognizing four faculty memebers who have been elected as fellows of the American Associates for the Advancement of Sciences (AAAS), one of the most distinct honors within the scientific community.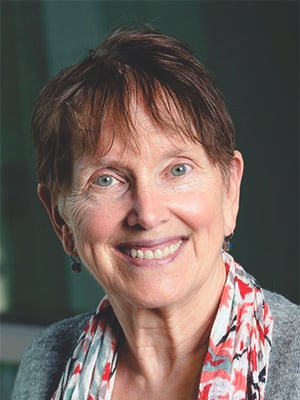 Carol A. Handwerker
---
The Reinhardt Schuhmann, Jr. Professor of Materials Engineering and Professor of Environmental and Ecological Engineering
David J. Love
---
The Nick Trbovich Professor in the Elmore Family School of Electrical and Computer Engineering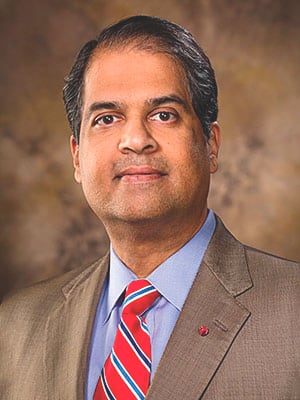 Ajay P. Malshe
---
The R. Eugene and Susie E. Goodson Distinguished Professor of Mechanical Engineering with a courtesy appointment in Agricultural and Biological Engineering
Fabio H. Ribeiro
---
The R. Norris and Eleanor Shreve Professor of Chemical Engineering and Director of the National Science Foundation Engineering Research Center for Innovative and Strategic Transformation of Alkane Resources (CISTAR)
---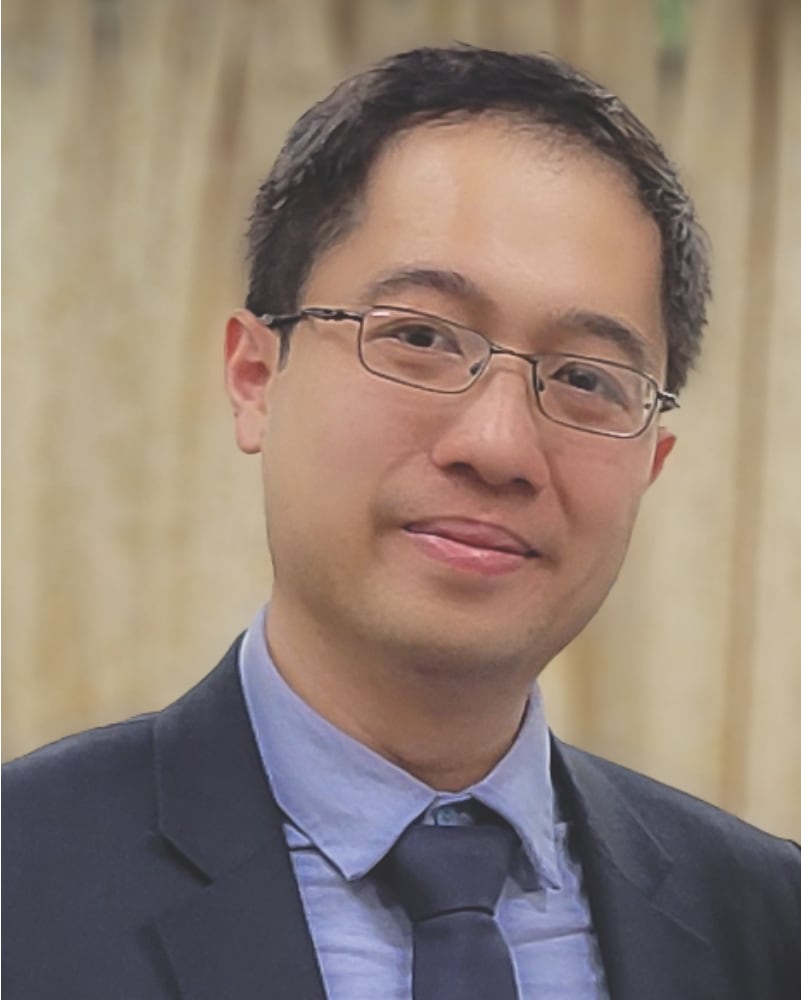 3 Faculty Earn Fulbright Scholar Awards
---
As the Fulbright Distinguished Scholar in Alternative Energy Technology, Guillermo Paniagua (left), professor of mechanical engineering, will be hosted by the Chalmers University of Technology, Gothenburg, Sweden. Ivan Christov, associate professor of mechanical engineering, will study nonlocal nonlinear interfacial waves while hosted in Cyprus. Denny Yu, associate professor of industrial engineering, will research real-time human-aware systems for enhancing user performance while at the Management Center Innsbruck in Austria.
Civil Engineering Professor, Alumnus Selected for ASCE's Opal Awards
---
Kumares C. Sinha (left), the Edgar B. and Hedwig M. Olson Distinguished Professor of Civil Engineering, and James E. Rowings (BSCE '75, MSCE '79, PhD '82) will receive the American Society of Civil Engineers (ASCE) Outstanding Projects and Leaders (OPAL) Award. Both will be recognized during the OPAL Gala on Oct. 20 at the ASCE 2023 Convention in Chicago.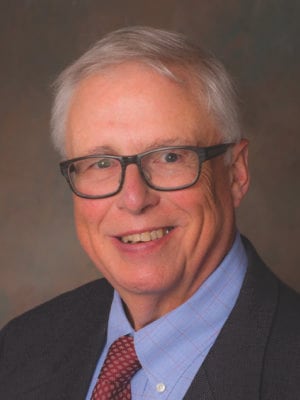 ---
2 Purdue AAE Students Receive Matthew Isakowitz Fellowship
---
Therese Malinowski (left) and Mark Paral are recipients of the 2023 Matthew Isakowitz Fellowship, a competitive prestigious award that includes an internship at one of the programs partner commercial space companies and one-on-one mentorship from accomplished members of the space community.

First Kiewit Scholars Help Shape Future of Construction Industry
---
---
Fifteen students from the College of Engineering and Purdue Polytechnic Institute were selected as Kiewit Scholars. They will receive financial scholarships, real-world project experience, direct mentoring with professionals at prominent construction firms and access to high-profile internships. Eleven are from Engineering and four are from Polytechnic.
This year's Kiewit Scholars are: Veronica Brems, construction management; Leila Capozz, construction engineering and management; Ava Curry, civil engineering; Alana Devilbiss, civil engineering; Joshua Fiore, construction engineering and management; Violet Fitzgerald, construction engineering and management; Michael Gille, civil engineering; Bryson Gilley, electrical engineering; Emily Helmuth, civil engineering; Blaise King, construction management; Sydney Kroon, civil engineering; Raul Molina, construction management; Sajon Seaberg, mechanical engineering; Brenna Sullivan, civil engineering; and Autumn Yang, construction management.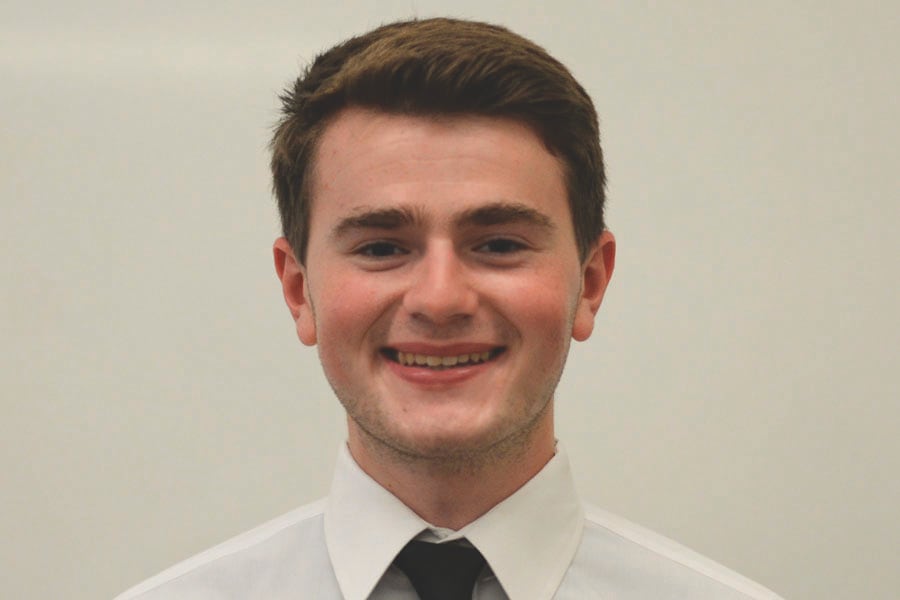 Nuclear Engineering Undergrad Named Astronaut Scholar
---
Jacob Halpern, an undergraduate student studying nuclear engineering, received the Astronaut Scholarship from the Astronaut Scholarship Foundation (ASF). The scholarship provides a $15,000 monetary award; a fully paid trip to the Astronaut Scholarship Foundation Innovators Weekend and Gala; and lifelong engagement with the astronauts, other alumni and ASF.
Student Team Wins FAA Challenge by Addressing Power Needs in Electrified Aviation
---
The Federal Aviation Administration (FAA) awarded a team from Purdue University 1st place and grand prize in the 2022 FAA Challenge: Smart Connected Aviation Student Competition. The team took home a total $25,000 cash prize.
The competition encourages undergraduate and graduate teams to creatively develop and share transportation technology solutions while addressing human factors aspects of the traveler's experience.
Purdue Formula SAE Team Has Best Finish in 30 Years
---
---
In 2022, Purdue's Formula SAE team reached its best-ever podium finish: 2nd place overall. Formula SAE is part of the Collegiate Design Series, held by the Society of Automotive Engineers.
Purdue's ViPER Group Earns Guinness World RecordsTM Title for Charging a Lithium-Ion Battery at Lowest Temperature (-100°C)
---
The Vilas Pol Energy Research (ViPER) group of the Davidson School of Chemical Engineering at Purdue University now holds the GUINNESS WORLD RECORDSTM title for the "lowest temperature to charge a lithium-ion battery (LIB)." The ViPER team is composed of undergraduate and graduate students and postdoctoral researchers.
Civil Engineering PhD Student Places First in GIS CUP for Most Accurate Algorithm
---
---
PhD student Hunsoo Song won 1st place in the GIS Cup of the 30th ACM SIGSPATIAL. His doctoral work is related to large area 3D urban mapping that will enable city-scale digital twin simulations.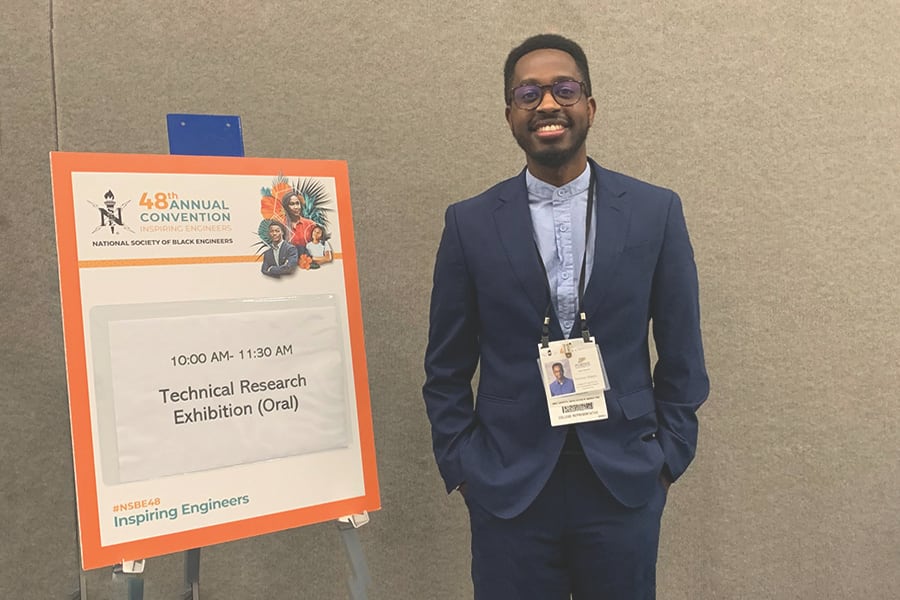 Environmental and Ecological Engineering PhD Student Receives 2 National Society of Black Engineers Scholarships
---
Purdue EEE PhD student Thomas Maani received multiple recognitions at the 2022 National Society of Black Engineers (NSBE) 48th Annual Convention in Anaheim, California. Maani was awarded Best Oral Presentation and the NSBE BCA Scholarship. Additionally, Maani received an NSBE Region 4 Scholarship for academic excellence.
Chemical Engineering PhD Student Named DOD Smart Scholar
---
---
Ethan Adams (center), a third-year PhD student in the Davidson School of Chemical Engineering, has received the Department of Defense (DOD) Science, Mathematics, and Research for Transformation (SMART) scholarship for his research on low-temperature batteries.