Prof. Hubo Cai Undertakes Research to Protect Underground Pipes from Excavations
Prof. Hubo Cai Undertakes Research to Protect Underground Pipes from Excavations
| | |
| --- | --- |
| Author: | Heather Pflug |
| Magazine Section: | Research |
| Article Type: | Feature |
| Alternate Magazine Section Name: | Discovery |
On average in the United States, there is a utility strike every minute of the day. Research and a new hybrid multisensory system being developed by Construction Engineering Management Professor Hubo Cai aims to put a significant dent in that statistic.
"This research is extremely important because of the large number of utility strikes and deaths and huge financial loss – billions every year," Cai said.
A utility strike is the hit of a buried utility pipe or cable and can be electric, gas, telecommunications, or water. Strikes, Cai explained, happen for two reasons: "We do not know where utilities are buried (records are not available), and/or during the digging, the equipment operator does not have visual clues."
In the 1970s and still in place today, the one-call 811 notification system – sometimes marketed as "Call Before You Dig" - was implemented to prevent utility strikes. Property owners and developers call to indicate their intent to dig, and in turn, utility companies dispatch field locators to mark pipe locations with paint.
The problem with that system is "not all pipes are marked because of the lack of accurate records, marks usually do not provide depth information, and when excavation starts, the marks on the surface are the first things to disappear. The operator won't remember where they are," Cai said.
According to Cai's collaborative research document outlining the need for new technology, he estimates that the total length of underground utilities in this country is in excess of 35 million miles. Of the 5,618 significant pipeline incidents in the United States from 1994 to 2013, 21.8 percent were caused by excavation damages that resulted in 142 fatalities and 491 injuries.
"Depending on the situation, the responsibility could be the contractor in charge of excavation or the utility owner. But no matter what, public citizens are always impacted."
Responding to the problem, other researchers have introduced technological advancements for locating, mapping, and visualizing subsurface utilities that have reduced accidents by about 25 to 50 percent, but limitations remain.
The Purdue team's system is named "hybrid" because it combines virtual sensors with physical sensors. Virtual sensors refer to natural language processing algorithms to process utility plans, specifications, regulations, and records to extract utility information. "Processed utility information is then fused with physical sensors such as ground penetrating radar and GPS to more accurately detect and locate underground pipes," Cai said.
"Utility operators will be able to 'see' where the buried pipes are during operation in two ways - AR (augmented reality) with goggles and an on-board screen display." The system allows equipment operators to visualize potential interactions in real time to prevent strikes. A prototype is scheduled to be ready by the end of 2019.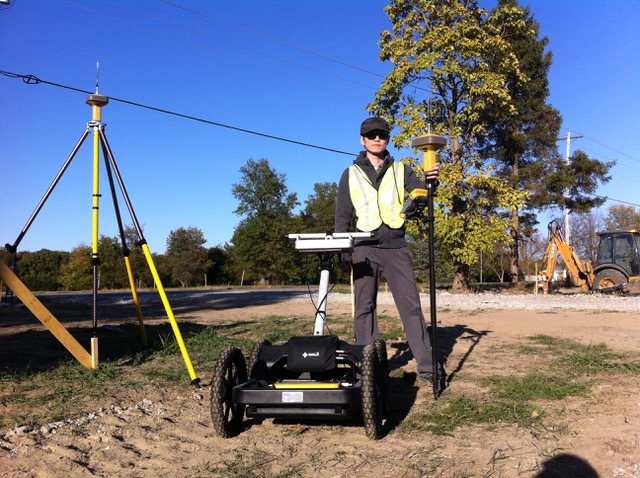 "With this technology in place, we can save hundreds of lives every year plus prevent the huge amount of damage to society," Cai predicted.
Cai's team is comprised of Purdue students Chenxi Yuan, Jiannan Cai, Xin Xu, and Shuai Li, who has since graduated and is an assistant professor at the University of Tennessee Knoxville. Cai also is in collaboration with Professor Vineet Kamat from the University of Michigan.
The research has partially been made possible by two National Science Foundation grants: One provides $150,000 to both Cai and Kamet; and the other, in the amount of $230,000, is strictly for Purdue's team, of which Cai is the principal investigator.