Back to the Purdue AAE Propulsion main page.
Back to the Turbofan Engines page.
---

TFE731
The 731 has been in production since 1972, and has powered 20 varieties of air- craft, mostly business jets. Here we present the models with the least and most thrust, though there is a range in between. It has a single-stage fan, a 4-stage axial compressor, and a centrifugal high-pressure compressor.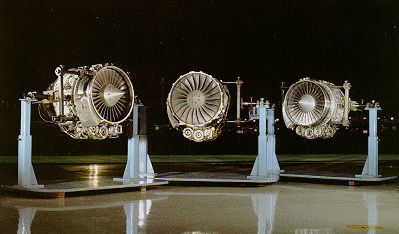 Engine statistics
Specification
-2
-60
Application
Business Jets
T/O Thrust
3500 lb
5000 lb
T/O SFC
0.493 lb/hr/lb
0.405
Cruise Thrust
755 lb
1120 lb
Cruise SFC
0.790 lb/hr/lb
0.679
Bypass Ratio
Pressure Ratio
13
22
Length
49.7 in
72 in
Dia
39.4
42.4
Weight
734 lb
988 lb