<![if !vml]>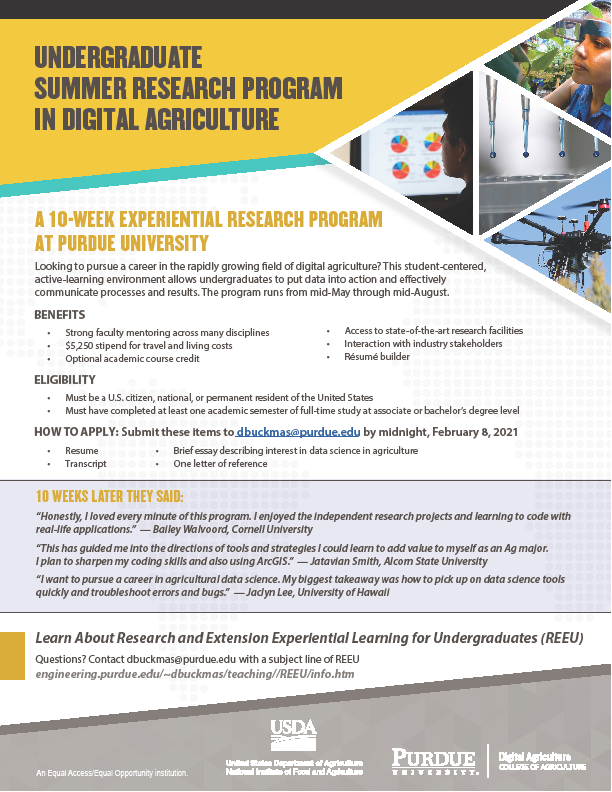 <![endif]>
<![if !vml]>
<![endif]>
If you have questions, contact dbuckmas@purdue.edu with a subject line of REEU.
Overview of the Program:
This summer experiential research program, hosted at Purdue University, is designed to equip 5 cohorts with a total of 47 participants with data science skills that complement their agricultural discipline knowledge. We will enable them to contribute to the rapidly developing research and practice of digital agriculture in a student-centered, active-learning environment with a combined course/research experience.
The Program Objectives and Student Learning Goals are:
● understand application program interfaces (APIs) well enough to collect data and wrangle data into informed decisions
● perform proper statistical analysis and be able to communicate process and results
● understand the industry opportunities in agri-business data science
The project will address a variety of the AFRI farm bill priority areas with focus on Cyberinformatics and Tools for Food and Agricultural Data Analysis and Data-Driven Applications (FACT). With the intellectual focus on digital agriculture and data analytics, we will introduce algorithmic thinking in basic elements, and will empower those students to integrate different concepts into their own research area and to communicate that effectively.
The culmination of the summer research experience will be a mini-symposium with student presentations (live and virtual) to internal and external stakeholders. This presentation/communication experience will give them firsthand experience documenting their own learning and methods in a way that improves retention and transfer of the knowledge (a metacognition exercise).
This experience involves strong mentoring by faculty in assorted disciplines as well as coordinated activities with other research programs to bring about mutual benefits in culture and intellectual maturity.
In addition to experiences directly led by the faculty mentors, this program will involve activities organized by the Purdue Office for Undergraduate Research (OUR):
<![if !supportLists]>· <![endif]>Facilitation of housing
<![if !supportLists]>· <![endif]>Social activities and research-related seminars
<![if !supportLists]>· <![endif]>Involvement in the annual campus-wide research poster symposium
as well as programs offered by the College of Agriculture including:
<![if !supportLists]>· <![endif]>Science communication workshops
<![if !supportLists]>· <![endif]>Social and networking activities including connection to agricultural administrators
<![if !supportLists]>· <![endif]>Participation in agricultural research center tours
The faculty mentors for this program include:
Dr. Dennis Buckmaster, Professor of Agricultural & Biological Engineering, Dean's Fellow for Digital Agriculture
Dr. James Krogmeier, Professor of Electrical & Computer Engineering, Co-founder of the Open Ag Technology & Systems Center
Dr. Mark Daniel Ward, Professor of Statistics, Associate Director of Actuary Science and Lead of the Data Mine Living Learning Community
Dr. Dharmendra Saraswat, Associate Professor of Agricultural & Biological Engineering
Dr. Bruce Erickson, Agronomy Education Distance & Outreach Director
Dr. Jeff Holland, Professor of Entomology
Other information you may find useful:
Information about Purdue University, Indiana's Land Grant Institution –  over 40,000 students in over 200 majors with 2000+ undergraduate research projects
Purdue Agriculture: 3 World Food Prize Laureates, #8 Ag program in the world, #1 Agricultural & Biological Engineering Department
Visiting the area: Two Great Cities, One Great University