Mac: Connecting/Mapping to an SMB/CIFS Server/Share with Mac OS X
NOTE: If connecting from off campus you will need a VPN connection for successful connection.
Go here to obtain/update the required software if not already installed on your system:
In OS X it is easy to connect/map to SMB and CIFS server/shares. In OS X 10.3.x(Panther) and 10.4.x(Tiger), Apple has made it simple to connect to server/shares. This FAQ will demonstrate how to use OS X to connect to SMB and CIFS shared volumes on the ECN network. These instructions also work for 10.5.x(Leopard) and 10.6.x(Snow Leopard), but the volume does not show up on the desktop, it does show up in the Finder window(by default).
NOTE: The following screenshots were taken with Mac OS X 10.4.x Tiger, although use will be nearly identical in Mac OS X 10.3.x, 10.5.x, and 10.6x.
In the Finder, select Connect to Server... from the Go menu; it will be the last option. Click on it and then the Connect to Server dialog will appear.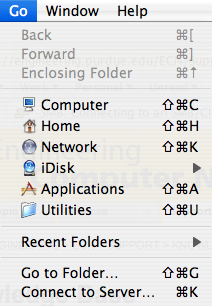 ---
The next step is to enter the path to the server. Users connecting to a Windows share should use cifs://; when connecting to a UNIX or OS X share, use smb://. After you know the protocol you need (CIFS or SMB), you'll need to know the server and username. In this example, I will use the server pier and the sharename joesmith. See Figure 2. The path would then appear as such: smb://pier.ecn.purdue.edu/joesmith
If you are attaching to a shared drive, you will have to use the format: smb://servername.ecn.purdue.edu/sharename
---
NOTE: IP addresses are also suitable in place of DNS names. Also, while fully qualified names are desirable, if you have current
and proper DNS information included in your networking system preferences set up, you may be able to use just the server name
and share name in the Connect to server dialog box.
Click the Connect button. OS X will contact the server, and display a system authentication dialog. Set the attributes for the following fields:
Workgroup or Domain: ECN
Name: (your ECN username)
Password: (your ECN password)
You may also wish to check "Remember this password in my keychain" if you plan to connect frequently.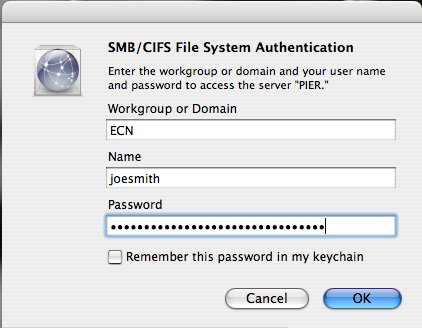 ---
NOTE: The ECN is applicable while accessing an ECN server. However, connecting to a server outside of ECN will necessitate a different domain value.
Click OK, and the share will be mounted on your computer. You can find it on the Desktop, with an icon of a globe encased in a clear cube.
---
If you want to have the volume automatically mount every time you log in, first find the icon of the volume on the desktop. Open up System Preferences by selecting System Preferences... from the Apple menu. The System
Preferences window will appear.
---
Select the Accounts control panel, click on your username, and then select the Login Items tab.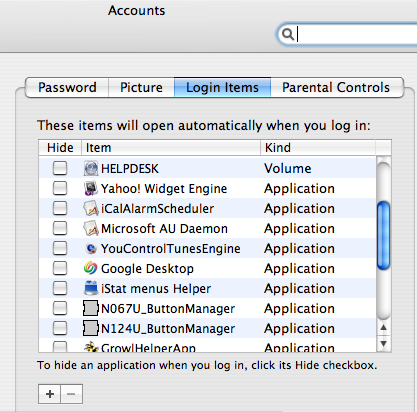 ---
Drag the icon of the volume into the list of login items and it will be added. Now whenever you log in it will mount the drive. (Note that Figure 6 has share helpdesk added as a mount; yours would have the shortname of your share — joesmith, for example.
Note: In Mac OS X Leopard(10.5.x) and Snow Leopard (10.6.x) if you should map a SMB/CIFS/AFP share it will not automatically be displayed. Please refer to Our FAQ regarding displaying mapped volumes on the desktop for further assistance(here):
engineering.purdue.edu/ECN/Support/KB/Docs/MacDisplayingaConnec/
NOTE: If you want to bypass OS X asking for your password every time you log in so it can authentication the network mounting, be sure to check the "Remember this password in my keychain" checkbox when you first mount it. If you didn't do that, you can unmount the drive, then remount it and check the box.
If you wish to connect to ITaP home directory servers, information from ITaP's KnowledgeBase pages may be helpful, more information to help can be found here:
https://www.itap.purdue.edu/learning/careeraccount/
Last modified: 2014/02/18 11:02:54.310831 US/Eastern by christopher.n.deckard.1
Created: 2007/11/06 13:52:33.284000 US/Eastern by brian.r.brinegar.1.
Categories
Search
Type in a few keywords describing what information you are looking for in the text box below.