Using Goliath with Mac OS X
What is Goliath?
Goliath is an application that creates and edits websites. It uses a technology called WebDAV (frequently called Web Folders) to make changes to the files stored on web servers. It was the first application to implement WebDAV on the Macintosh. Goliath exposes functionality similar to that found in the Windows version of Internet Explorer 5 plus many other features that are unique to the Mac.
With Goliath, users can:
View the contents of a web site in a Finder-like fashion (including size, modification date and type)
Upload new files to a website
Create new folders in web sites
Delete files and folders on a web site
Rename files on a web server
Download copies of files on a web server using Drag & Drop (including delete by dragging to the Trash)
Bookmark DAV resources for easy navigation
Lock and make changes to existing files on a web server (using the applications of their choice)
Display and editing of properties
Duplicate items stored on web servers
Native MacOSX support via Carbon.
Downloads
Download Goliath from Webdav.org
Using Goliath with the Engineering Web Cluster
Download and install Goliath
Run Goliath by double clicking the executable in the Applications -> Goliath folder
---
The New WebDAV Connection dialog box will appear
Enter https://engineering.purdue.edu/ in the URL field
Use your Purdue Electronic Directory username and password.

Click the Ok button
---
The First Time you connect to the Engineerin Web Cluster a Goliath Security Alert dialog will appear warning you that, "the servers certificate was issued by a company you have not chosen to trust."
Check the Install Certificate check box.
Click the Ok button. This dialog should not appear in the future.
---
After a few seconds you will see the folders available in the root of the Engineering Web Cluster.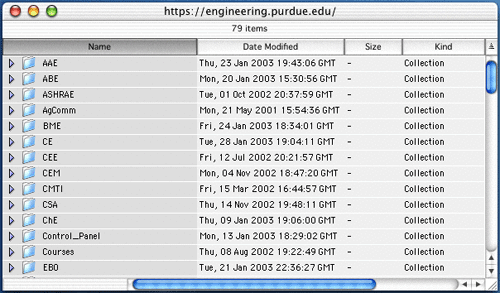 Browse to your files.
You can now drag and drop files to and from the Web Cluster using Goliath.
Last modified: 2014/06/18 17:08:13.417720 GMT-4 by christopher.n.deckard.1
Created: 2007/11/06 14:31:48.363000 US/Eastern by brian.r.brinegar.1.
Categories
Search
Type in a few keywords describing what information you are looking for in the text box below.