Print this article
Edit this article
Comsol Licensing
Research license access groups
Note: COMSOL licenses are in short supply; there are only THREE research licenses available for general use. If you do not have reserved licenses, you may want to consider using ANSYS
There are three COMSOL Multiphysics research licenses that ECN provides for anybody in the College of Engineering to use. These  licenses are available on a first-come, first-served basis.  It is for this reason you can sometimes use COMSOL and not at other times.
No additional module license are provided for free.  You need to purchase a license  if you need to use a COMSOL module.
If your research requires the use of COMSOL, you should consider purchasing your own license. If you are a graduate student, check with your advisor to see if he or she already have a license you may use.


Additional modules

Comsol has many add-on modules that specialize in Electromagnetics, Fluid Flow/Heat Transfer, and other areas:
https://www.comsol.com/products
Purchasing research licenses

To purchase a research license for you or your group, send email to software@ecn.purdue.edu describing how many licenses and any add-on modules you think you will need. We will get you a price quote. At that time you will need to provide an account number to proceed.
The base COMSOL license cost $4000.  The license is perpetual, but if you do not pay the yearly maintenance fee (about 20% of the license cost) then you will not be able to use the license with new versions of the COMSOL software.
The cost of the modules vary (between $600 - $4000) for perpetual licenses.
Yearly licenses for the base COMSOL & modules are available at 50% of the cost of perpetual licenses.
 
Class license

For teaching COMSOL in a class we have a 60 seat class license available along with a fairly full array of modules. To use this license a class list must be provided by the faculty teaching the class, preferably before the start of a semester. The cost of the licenses (about $4500 per year) is shared by the departments requesting access. In the recent past 4-5 departments have used the class license, so the cost per department has been in the $900-$1200 range.
Occasionally, issues such as mistyped career accounts or a late addition to the class can cause an enrolled student to not have access to the Comsol class license. If that's the case then send e-mail to software@ecn.purdue.edu to determine why the class license is unavailable to the student.
Where can you use it?
COMSOL is available on all ECN-supported Linux and Windows machines. If its not on your ECN-supported Windows PC, contact us for assistance.  To launch the Class kit in an ECN-supported system, select "Comsol Multiphysics - teaching" as shown in the first image below.  You can also type in "comsol" and search the start menu as shown in the second image below.  Please note that this only applies to Comsol 5.4 and newer.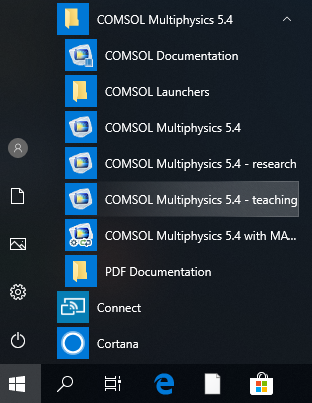 Installation is available on University owned computers located on the West Lafayette campus. COMSOL may also be installed on faculty and student personally owned computers.  Using COMSOL off-campus requires the use of the Purdue VPN. Note: The login on the personal computer MUST match the Career Account login.
The COMSOL class license is also available on the ITaP go remote system.  The COMSOL research license is not available through that service.
If you want to use COMSOL on an RCAC system, you have to request access via https://www.rcac.purdue.edu/account/software/
 
Last Modified: May 17, 2021 3:13 pm America/New_York
Created: Feb 1, 2012 2:55 pm US/Eastern by admin
JumpURL:

Categories
Search the Knowledge Base